By: Jade Graham
I first saw the painting above in my AP English Literature and Composition class around this time last year. Painted by Henry Fuseli in 1781, The Nightmare was presented to me as a cautionary tale. Shelley herself was influenced by Fuseli's work used as a symbol for the monster within everyone. The creepy incubus next to the also creepy horse is known as a demon that craves sex and preys on women as a whole. The idea of having Elizabeth as Victor's wife (or whatever you would like to refer her as) being portrayed as pure, innocent, wearing white, and a nice formal girl: a perfect target for an incubus. Now, not to say that an incubus does appear in Frankenstein however it does connect to Elizabeth's death. Her similar pose and the monster killing her does relate to The Nightmare.
As for my previous conceptions about Frankenstein and the myths surrounding it, I only knew that the monster was bad and that a crazy guy created him. Only until I read the book in high school did my whole perspective change. The 1931 movie adaption with this clip: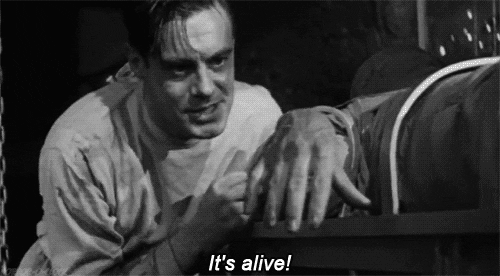 was wrong. Victor is horrified in the novel and regret sets it. The reader can feel bad for both Victor and the creature, and for good reasons too. But in the end, Frankenstein is many things including a cautionary tale. The idea of greed, desire, fame, all led to destruction, murder, and chaos. Victor chose to dig up body parts and create something that was never meant to be created. He and Walton are examples of not only men but people who cross the line. Just because you can do something, doesn't mean you should always do it.